Value-Based Models
Understand how pathways* and alternative payment models (APMs) stand to impact product utilization and sequencing, as well as identify how to best engage key value based model organizations and their influencers. (* pathways only available for oncology brands)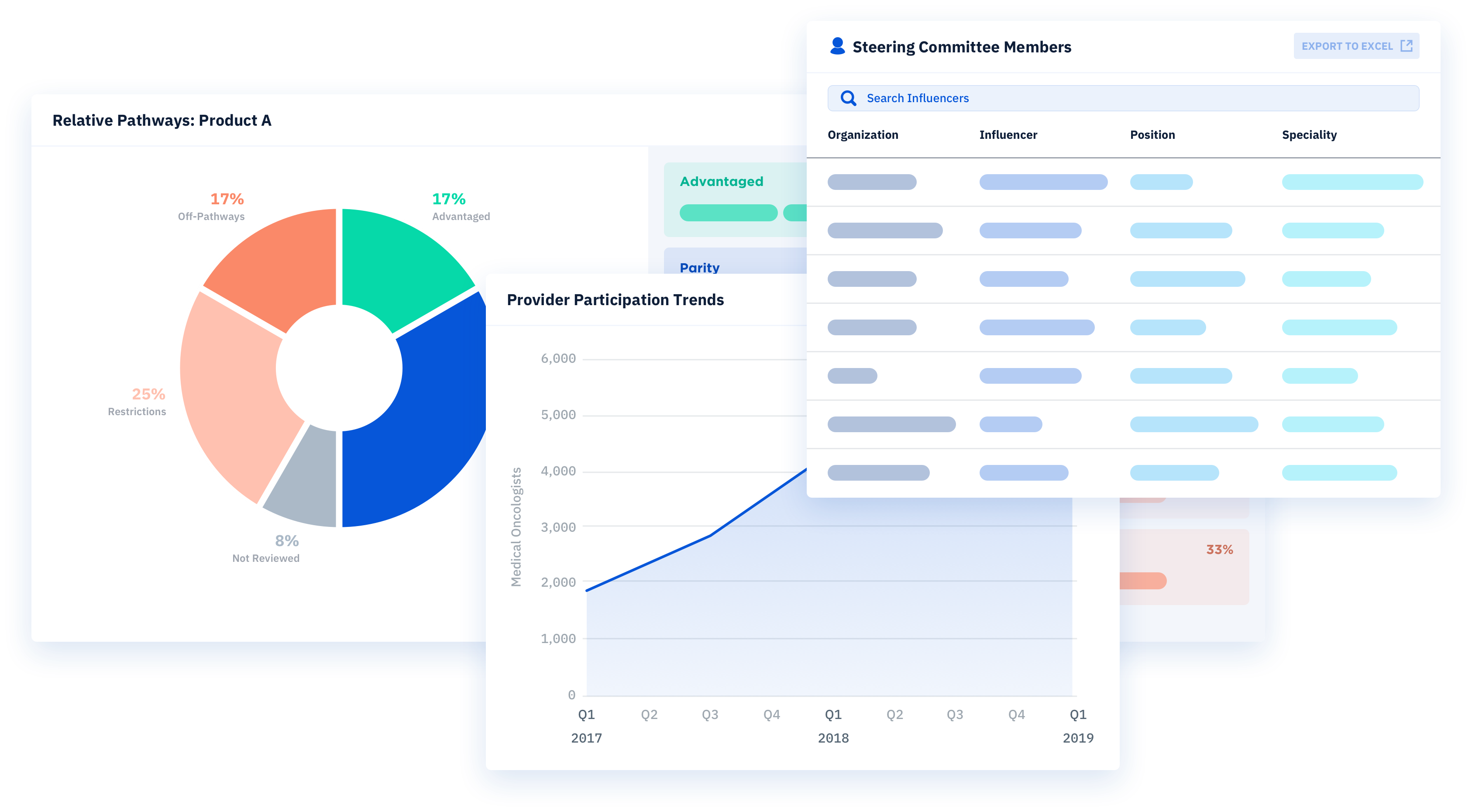 Management Dashboard
The Pathways and APM Tool provides a Management view to show high-level pathways trends, including utilization dynamics, brand positioning & development, and engagement opportunities.
Value to Manufacturers
Monitor and track landscape trends
Identify gaps and opportunities across portfolio
Support account management and targeting
Management Dashboard
Key Business Questions Addressed
Product Sequencing & Utilization
How are our products sequenced on dominant value-based programs vs. the FDA approved indication and competitors?
Provider Participation
To what extent are providers participating in value-based models & what is the potential impact on prescribing behaviors?
Payer Adoption
Which priority payers are sponsoring emerging value-based models and how has payer sponsorship evolved over time?
Regional Targeting
Which states and regions have greater exposure (providers and payers) to value based programs?
Steering Committee Influencers
Who are the priority stakeholders that influence model development and implementation for targeting?
Account Profiles
In-depth account profiles of value-based models have been developed to guide targeted engagement action planning, based on operational models, provider workflow integration, and key influencers.
Value to Manufacturers
Understand value-based models and their impact on product utilization and sequencing
Identify key models, decision-makers & influence opportunities for targeted engagement planning
Maintain updates on emerging participants, brand positioning, and key influencers
Account Profiles
Key Business Questions Addressed
Program Overview
What is the value-based model's business model & strategic focus?
Adoption & Participants
What is the organization's adoption & footprint among providers and payers?
Development Process
What is the development process, meeting times and data submission opportunities?
Capabilities & Adherence
How are models integrating within HCP workflows & what are avg. adherence rates?
Decision-Markers & Influencers
Which steering committee members & influencers should be prioritized?
Want to learn more?
Contact our team to schedule a demo and learn how Pulse Analytics can improve your market access strategies and execution.