Decision Support Tools for Market Access in Oncology & Specialty Therapeutics
Transforming data into insights & strategies to communicate the right priorities to your team & customers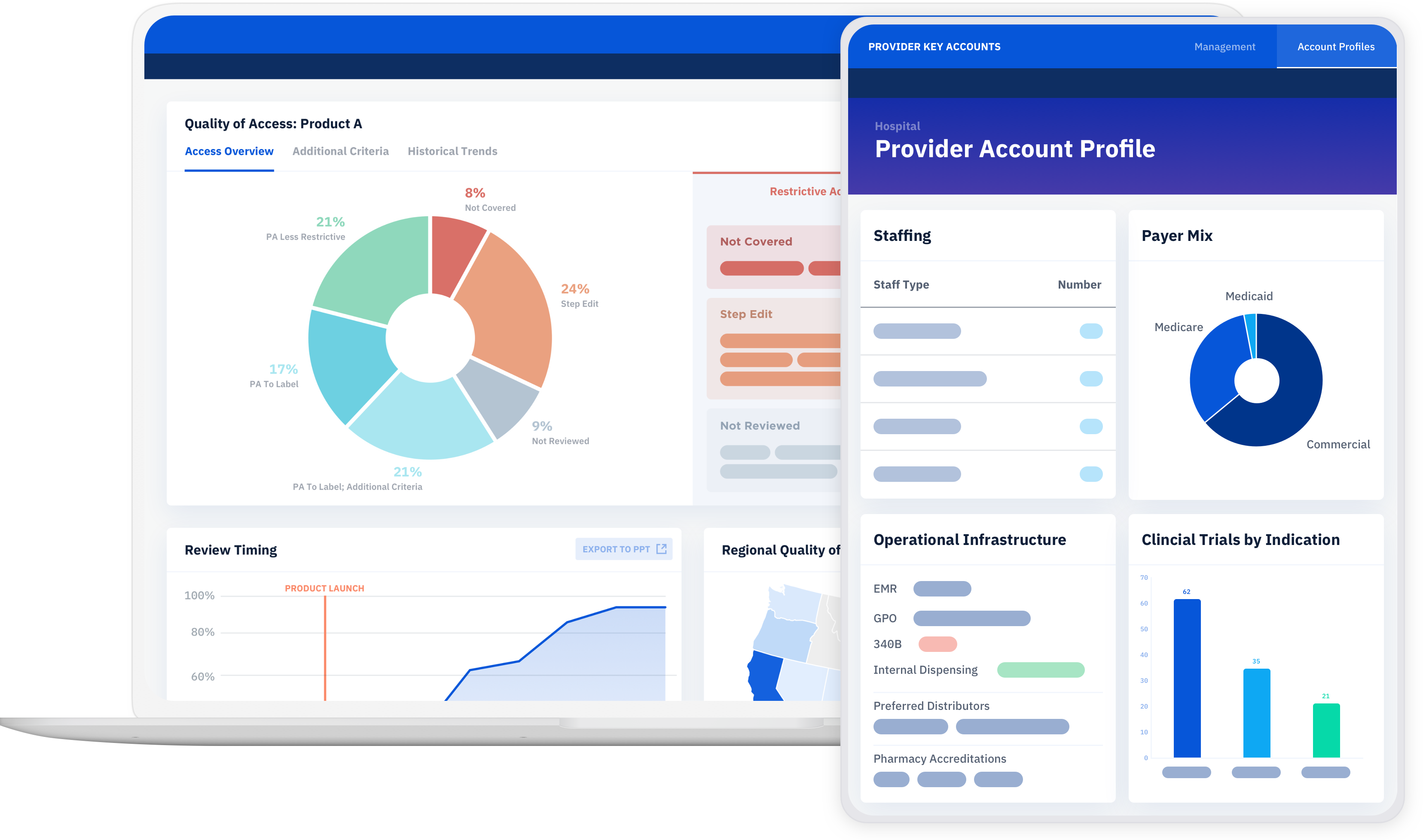 What
Market Access, Brand/Portfolio & Sales Leadership Planning Tools
Pulse Analytics provides key decision support tools that span priority customers & influencers of access and value to support targeted engagement planning.
Why
Filter "Noise" of Complex, Rapidly Evolving Landscape & Focus on What Impacts Business
Pulse Analytics addresses key challenges facing pharmaceutical executives operating in a highly dynamic specialty access & competitive arena, while building & directing teams of various experience levels.
Predictive Analytics
Robust access to historical analogs that inform forecasting & scenario planning
Smart Targeting
Prioritization of key trends, drivers & top accounts vs. "nice to know" details
Strategic Support
Analytical support to aid in translating insights to implications for strategic engagement planning
Expert Validation
Extensive & frequent validation of data by specialized teams & access panel of payers, providers, & emerging access influencers
Organizational Alignment
Efficient communication of customer & influencer changes for leadership briefing, team alignment, & field guidance
How
Address Key Business Questions at Appropriate Frequency for Leadership Focus & Engagement Execution
Timely, validated information is structured for aggregate management insights & account level engagement planning, supported by live Q&A/review sessions that enhance team fluency & ensure strategic planning focus.
Right Information, Right Time
High-quality information updated regularly & validated via propietary analog dataset precedent & forward looking insights from our expert panel
Channel & Account Level Insights
Structured information to address both aggregate channel emerging priorities & granular account level engagement targets
Live Education & Planning Support
Monthly update review teleconferences provide live Q&A for enhanced team fluency & strategic planning focus areas for execution
Proactive Surveillance & Alerts
Customized alerts via email communicate critical changes identified through proactive market surveillance of key customer/influencer issues
Custom Reporting & Analytics
Strategic Dashboard Toolkit allows users to "build" their own PowerPoint reports and download Excel files for further custom analysis
LEARN MORE
Explore Our Tool Capabilities
* pathways only refers to oncology brands
Want to learn more?
Contact our team to schedule a demo and learn how Pulse Analytics can improve your market access strategies and execution.