Provider Key Accounts
Identify provider protocols access & field team engagement priorities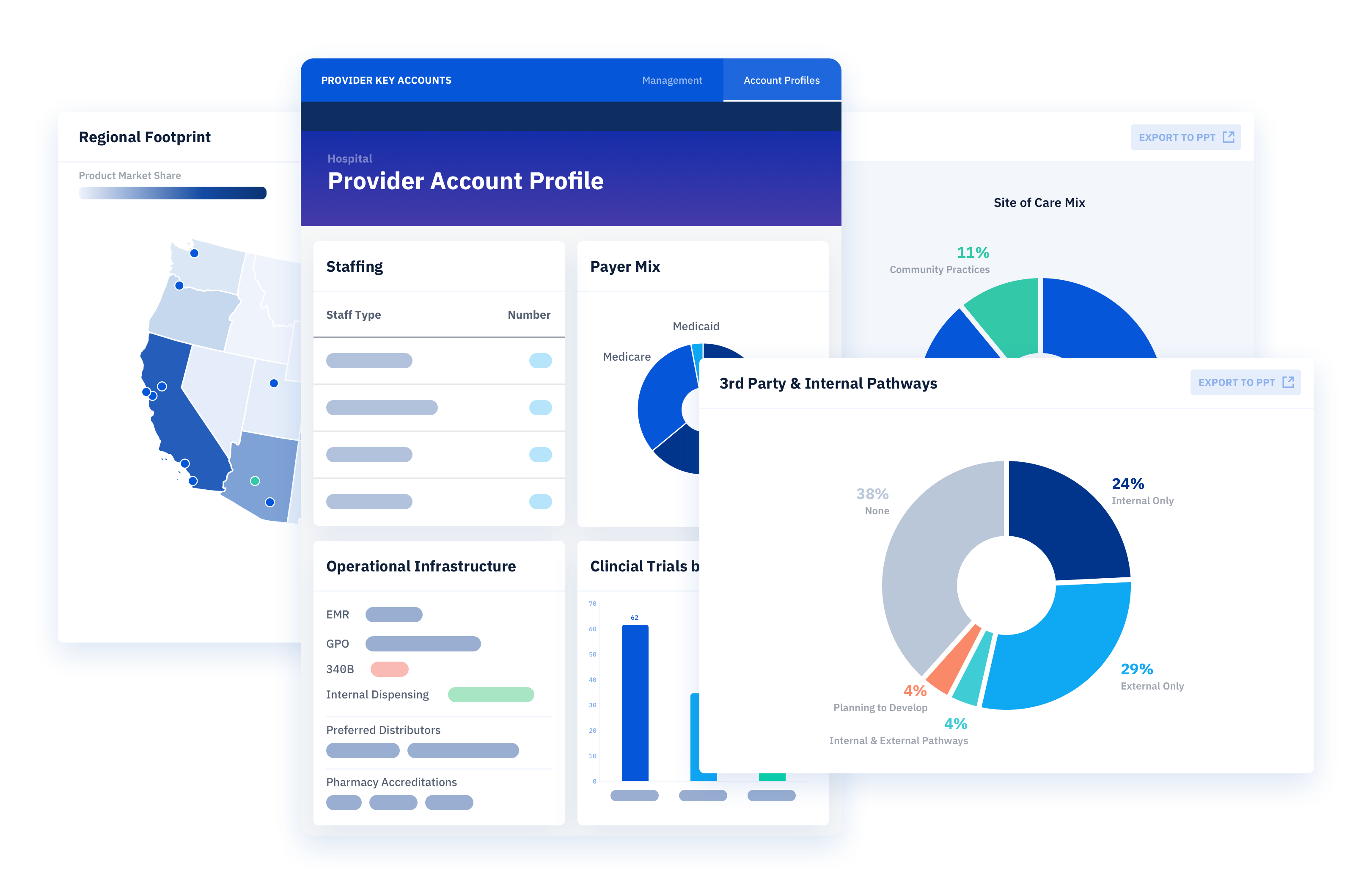 Management Dashboard
The Providers Key Accounts Tool provides a Management view to show high-level account segmentation based on internal operations and prescribing behaviors.
Value to Manufacturers
Inform prioritization of clinical & non-clinical value drivers impacting value perception and utilization
Support alignment of key opportunities and engagement objectives across home-office and field-based teams
Share potential engagement planning activities for consideration
Management Dashboard
Key Business Questions Addressed
Product Performance
How is my product performing relative to competitors at my key accounts?
Regional Alignment
In which regions do I have a greater concentration of high vs. low-performing accounts?
Access & Prescribing Dynamics
Within each local market, what key account & environmental dynamics may be influencing utilization / value perception?
Opportunity Prioritization
What account opportunities should we prioritize?
Engagement Planning
What segment-specific engagement considerations may inform action planning?
Account Profiles
In-depth account profiles were developed for priority provider accounts, with profiling information structured across 5 key business questions.
Value to Manufacturers
Understand key account access & prescribing drivers or barriers for performance
Identify both traditional & emerging account engagement opportunities for action planning
Maintain single-source of intelligence on updates to M&A, business model & pathways
Account Profiles
Key Business Questions Addressed
Account Overview
How is my product performing & what account characteristics may explain utilization?
Business Model & Operations
What are the account's business model priorities, accreditations, and staffing?
Clinical Sophistication
What is the account's utilization patterns, prescribing drivers, and testing protocols?
Protocols & Pathways
How do internal protocols and external pathways influence access / prescribing?
Manufacturer Engagement
What engagement restrictions exist, and which stakeholders should be prioritized?
Want to learn more?
Contact our team to schedule a demo and learn how Pulse Analytics can improve your market access strategies and execution.