Payer Quality of Access
Develop better strategies to address coverage challenges, as well as focus messages to improve value perception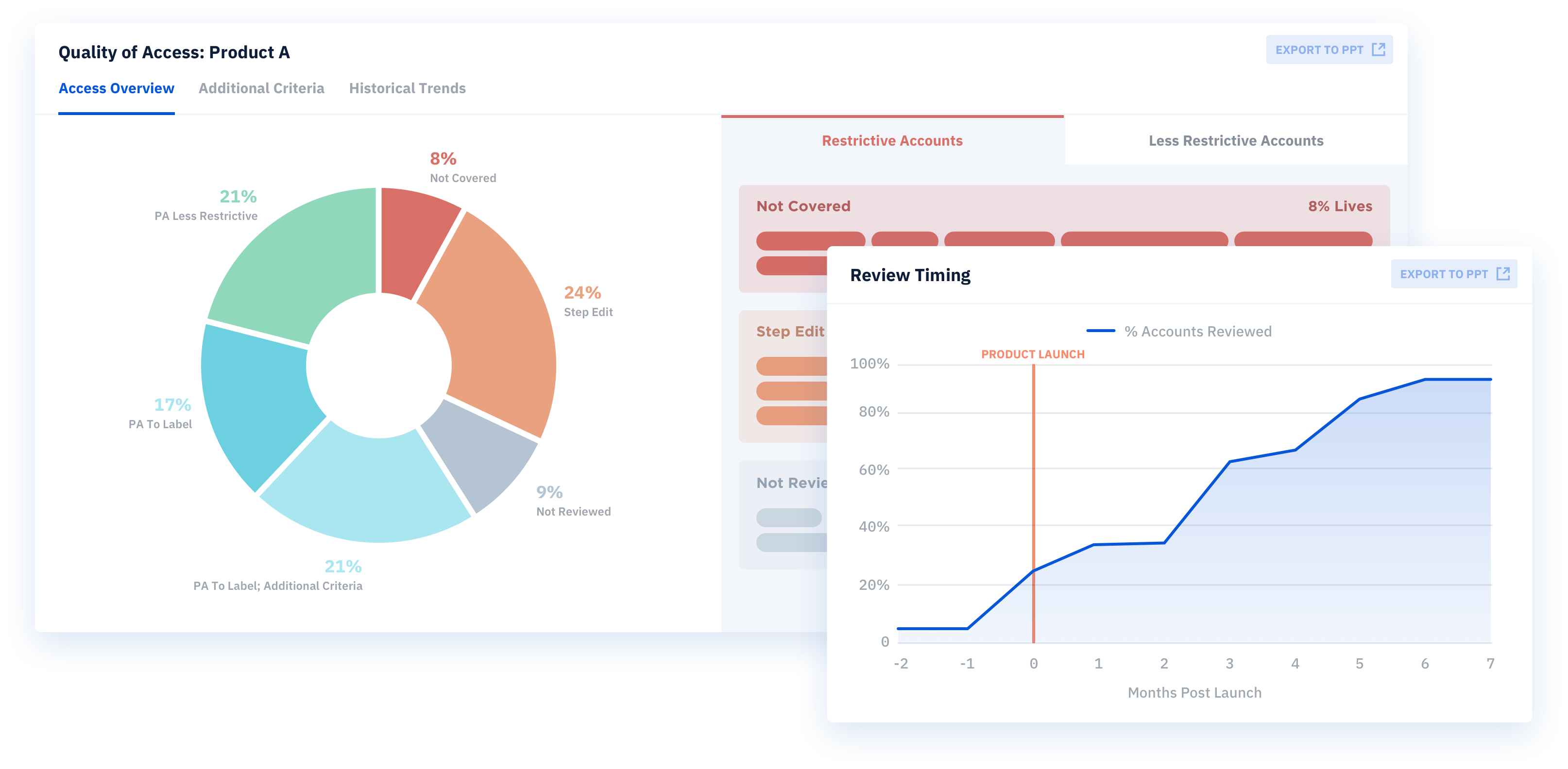 Management Dashboard
To support quality of coverage restrictions profiling, Pulse Analytics can perform deep account profiling for analogs across dominant channels, pharmacy & medical benefit & Part B MACs.
Value to Manufacturers
Inform payer pre-launch access forecasting & post-launch surveillance
Support payer account restrictions management & targeting
Track account manager engagement efforts & market changes
Management Dashboard
Key Business Questions Addressed
Review Timing
How quickly have payers reviewed & published coverage policies for my product vs. relevant analogs?
Quality of Access
How is my product being managed relative to my approved indications & which restrictions are most burdensome?
Historical Trends
How has my coverage changed month over month?
Competitive Access
How does my coverage compare vs. competitors?
Regional Targeting
Which states do we have favorable vs. restricted access?
Account Profiles
In-depth account profiles for top payers to allow monitoring of quality of access as well as support for regional targeting & strategic account engagement.
Value to Manufacturers
Inform targeted account engagement strategies to secure favorable payer access
Focus efforts on account planning rather than profiling
Maintain updated account business model, partnerships & management capability trends
Inform impact of payer coverage decisions
Account Profiles
Key Business Questions Addressed
Account Summary
What are the account's quality of coverage, contracting precedent, & who are the key influencers?
Organization Overview
What is the payer's business model, enrollment & geographic footprint?
Management Capabilities
What are the account's emerging management capabilities & provider partnerships?
Review Process
How does the payer review products & what are default coverage policies pre-review?
Product Coverage
Which states do we have favorable vs. restricted access?
Want to learn more?
Contact our team to schedule a demo and learn how Pulse Analytics can improve your market access strategies and execution.